Finally Friday, and I'm having one of those I just stabbed myself in the eye with my mascara mornings. (I hope I'm not the only one who does that.) Have you seen all the glitter nail polishes out there recently? This was one that began to pop up all over Pinterest, Deborah Lippmann's Happy Birthday.
The first one I tried was Ulta's Pinata Yada Yada.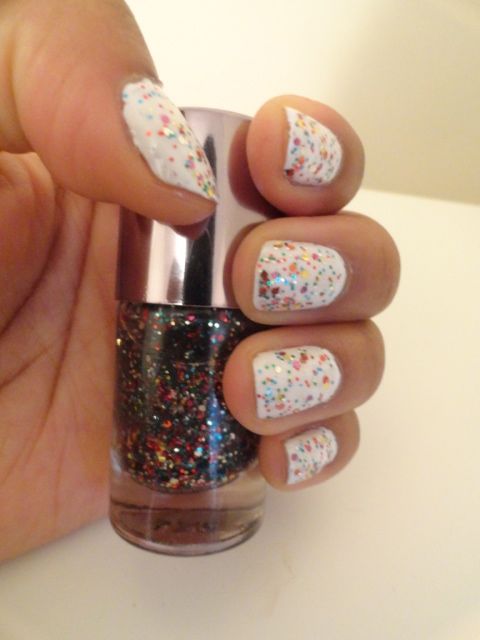 It had much smaller glitter and not a lot of coverage, ok as a top coat though, like in the picture. In my March Birchbox, I was lucky enough to get a full size Essie luxeffects glitter topcoat in A Cut Above.
Now, they say this is a topcoat, but you really can get enough coverage from it to use alone. I decided to layer it over one of my many pink OPI's. I loved the look, and it covered great. It was really easy to touch up throughout the week since a manicure usually doesn't last me more than 2 days. I really didn't have anything bad to say, until it was time to take it off. If I would've thought about it, I would've googled a solution at the time. I had the idea that since I used it as a topcoat, it would come off easily, since it wasn't directly bonded to my nail. Not so much. The OPI polish came off and I was left with lots and lots of pink glitter that did nothing but snag on the cotton pad. I probably went through 6 or 7 cotton pads on one hand alone. This is when my husband walked in and asked if I needed him to go out and get his power sander to get it off. While that wasn't necessary, I was about to go across the street and ask my neighbor, who works at a local spa, if I could use her pure acetone. Eventually it did come off, half a package of cotton pads later.
So, would I use this as a daily polish again? Probably not. However it does add something extra if I have an event that calls for a little extra shimmer. And next time, I'll google how to remove it first.